Multi Flex Pipe Coupling
| | |
| --- | --- |
| | Multexflex couplings produce a fast and flexible joint which lengthens the lifetime of the piping and lowers maintenance costs. Multiflex pipe couplings are used every where there are pipes. They can quickly join even piping of different materials. The flexible joints, requiring no special tools, are completely tight and durable. They also allow a diameter difference and a substantial inclined deviation between pipe diameters. |
The most common applications are
As flexible elements in industrial piping
For quick piping modifications used together with the modules system
For connecting together pre-manufactured piping
In restricted spaced and spaces with a fire risk as a piping extension
In locations where speed of construction is important
For piping susceptible to blockage
In shipbuilding: to save weight and space and also to eliminate noise resonance and vibration
For connecting piping of different materials together
In the stress-free construction of under ground metal piping containing pressure
For fast and reliable repair of all types of piping
| | |
| --- | --- |
| | |
| MF-RS | MF-RL |
| | |
| GR-S | GR-L |
| | |
| RCH-S | RCH-L |
| | |
| RCD-S | RCD-L |
| | |
| RC-S | RC-L |
MODEL NO.

PRODUCT RANGE

REMARK

MF-RS
MF-RL
GR-S
GR-L
RCH-S
RCH-L
RCD-S
RCD-L
RC-S
RC-L

15A ~ 500A
50A ~ 2,000A
50A ~ 350A
50A ~ 350A
20A ~ 500A
20A ~ 500A
15A ~ 2,000A
25A ~ 2,000A
15A ~ 500A
25A ~ 2,000A

BODY : 304SS, 316SS

SEAT : NBR, EPDM, SILICON
VITON, GORA-TEX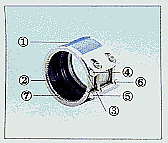 NO

DESCRIPTION

MATERIAL

1

CASING

SUS 304, SUS 316

2

RUBBER SLEEVE

EPDM

Water, Air, Powders and General Water Steam
(-20 degree C ~ +140 degree C)

NBR

For Natural Gas, Oil, Gasoline and Other Hydro-Carbon


SILICONE

Weather-Proof, Heat Resistance, High Insulation
(-75 degree C ~ +200 degree C)

VITON

Heat Resistance, Chemical Resistance
(-95 degree C ~ +300 degree C)

GORE-TEX

Heat Resistance, Chemical Resistance
(-232 degree C ~ +350 degree C)

3

SLIDE PLATE

SUS 304, 316

4

BAR WASHER

SUS 304, or S45C

5

BAR NUT

SUS 304, or S45C

6

BOLT

SUS 304, SUS 316 SCM 435, SUS 410

7

GRIP RING

SUS 304-H, SUS 301-H
Multiflex couplings have many advantages:
| | | |
| --- | --- | --- |
| | | |
| Suitable for new building and repair work. The piping can be quickly disassembled and the couplings can be used again. | Installation is fast and trouble-free. Neither special tools nor expertise are required. | Completely corrosion-free construction. Only the rubber sealing is in contact with the flowing media. |
| | | |
| Light weight space-saving construction. Easy to install even in restricted spaces. | Multiflex pipe couplings allow a maximum inclined deviation of 10 degree | The coupling acts as a flexible compensator for movements caused by heat and also effectively dampens vibration. |
| | | |
| The difference in diameters between the pipes to be joined maybe 4mm and the coupling is subitable for all piping materials. | | |
Advantage 1

GRIP RING COUPLING is simple to install. Just cut pipe to length, position ends together and tighten bolts instead of welding, flanging, threading or grooving. One man is enough. Anyone can do it.

Advantage 2

GRIP RING COUPLING takes up inaccuracies. Metal pipes are joined securely and resistant to pressure in spite of a gap between pipe ends, misaligned pipes or rough surfaces.

Advantage 3

GRIP RING COUPLING is ready to install immediately. A ready-to-use pipe coupling. Fitted in a matter of minutes without heavy equipment and long setting up times.
Advantage 4 GRIP RING COUPLING is long lasting. The low-stressed sealing gasket is highly chemical resistant and provides a long term reliable sealing. Corrosion-resistant metal parts.
Advantage 5 GRIP RING COUPLING reliable in operation. Progressive sealing effect and powerful gripping force. Dampens water hammer, vibration and structure borne noise. Protects pipes and other equipment.
Advantage 6 GRIP RING COUPLING saves costly space. The compact design with only two locking points permits close pipe spacing, small diameter insulation and smaller openings for pipes.
How to repair existing pipe line using pipe coupling
Shipbuilding, Offshore
Pipes for fire fighting, plumbing, ballast, compressed air supply and removal, transport, cooling water, seawater and fresh water. Not a rigid pipe joint, but 2'pipe misalignment tolerated in any direction. Trouble-free and free from maintenance even under dynamic loads. Sound absorbatin and vibration dampening. Good accessibility for fitting. Excellent space saving when laying pipes and low weight.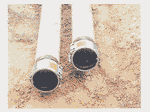 Water and Gas Supplies
Pump and hydrant pipes, shaft pipes, distribution lines, house connections. A handy pipe coupling designed for all construction site conditions. Effortless fitting without loose parts. A good professional job even in narrow trenches, in dirty and cold conditions. Even earth movement doesn't affect this pipe joint.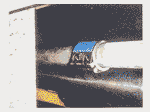 Building Construction and Civil Engineering
Cold and warm water lines. Pump lines. Gas and compressed air lines, temporary pipelines. Direct installation of pipe sections without preassembly, no costly alignment and adjustment. Galvanized pipes can be cut to length on site. No additional pipe end machining. Tolerates changes in direction without fixed points supports or holders.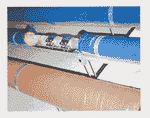 Power Plants
Cooling return pipes, compressed air and firefighting lines, lubrication pipe. The pipe joint withstands continuous temperatures from -30 degree to 100 degree and operation pressures up to 16 bar. Functional reliability even under water hammer and shock loading. Pipe damage can be repaired rapidly.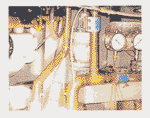 Machinery, Design Work
Cooling and compressed air lines, suction and lubrication pipes, fuel pipes. Versatility in use thanks to compact size. Available in many size. Tolerates dimensional variances and is unaffected by vibration. Simple fitting and removal. Reusable several times. Easy servicing.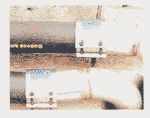 Industrial Plants. Plant Maintenance
Ring and rister pipes, power and process pipes, firefighting, transport and conveying lines. The special design of the pipe coupling ensures a long-lasting seal, accommodates dimensional variances and keeps pipeline construction stress free. Subsequent installations can be carried out rapidly with your own personnel, without fire or explosion hazards.

---