'NOAH' Electric Actuator for Butterfly & Ball Valve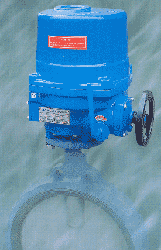 SEALING :
Standard enclosure with o-ring sealing is watertight to IEC IP67, NEMA4 and 6. The actuator is available with optional explosion proof enclosure.
MOTOR : Squirrel cage motor is a totally enclosed type, with high stall torque and low inertia force to suit seating/unseating of valve. Motor Integrated thermal protectors prevent damage to the single/three phase motors.
WIRING : Electric wiring of control circuit is standardized for single and three phase power supply in a single module. Multiple terminal contacts sufficiently cover additional requirements such as auxiliary contacts for DCS, interlocking and other options.
COMPONENT ARRANGEMENT : Mechanical and electrical module can be separated easily to improve assembling, maintenance and alteration of electrical requirements. Actuator has enough internal space for optional accessories.
HANDWHEEL : Size of hand wheel is designed for safe and efficient emergency manual operation.
MANUAL OVERRIDE : Hand/auto declutching lever for hand wheel engagement, The power drive is automatically restored by motor start.
ADAPTION : Base mounting is standard to ISO 5211. Drive bush is removable for machining to valve stem requirement. The actuator position on the valve can be selected for 4 positions by means of 4 bolt holes in the drive bush.
PERFORMANCE : The precision worm and worm wheel mechanism transfer high torque with high efficiency and low sound level (Max. 50dB) even though small in size. Additional benefits include low backlash and longer life. Various output torque (Min. 3.5kgf-m, Max. 250kgf-m) cater for valves from 2" to 24".
INDICATOR : The indicator is directly mounted on the center column to provide positive visual indication of the valve position.
HEATER : A space heater inside the actuator prevents condensation due to temperature and weather changes. Standard 20W heater keeps all electrical components in the actuator clean and dry.
LIMIT SWITCH : The limit switch is activated by means of a simple and yet reliable cam mechanism mounted and driven by the center column. The valve position can be accurately and easily set with the simple adjustable switch mechanism. The set position is permanent and is not affected by over-travel resulting from manual operation.
TORQUE SWITCH : Cam activated torque switches are easily adjustable to provide over-load protection.
SELF LOCKING : Rolled steel worm gear on aluminum bronze worm wheel self-locks to prevent valve back drive on control signal or power failure.