Expansion Joint : Expansion Joints


A specialized manufacturer of actuator, is proud of developing and manufacturing Electric Rotary Actuator. The actuator is used for automatic valves such as BALL V/V, BUTTERFLY V/V, PLUG V/V, and DAMPER V/V, etc, opening/closing within 90 DEG revolving range, or working by proportional control. The actuator, designed by perfect mechanism, has features of easy maintenance with strong durability, economization, parts compatibility, and handy mounting. Electric Rotary Actuator of proud of compact layout, elegant design various models, & quick A/S will contribute to all industrial automatic control system ideally connected with PLC, and Process computer.

Application [top]
The actuator is applicable to all valves opening/closing and controlling by 90DEG revolving, such as BUTTERFLY VALVE, BALL VALVE, PLUG VALVE, and DAMPER VALVE, etc on the transfer piping line of all plants.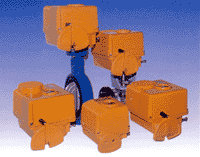 Features [top]
1. HOUSING : Actuator housing made of aluminum die casting material excels in its durability that cannot compare with ordinary aluminum casting & in water drainage, as well as its elegant design. Heater Sinks that are installed in housing helps the heat easily release to outside when the heat is produced from abnormal overload of motor.
2. MOTOR : Class F Induction Motor installed in Actuator not only gives out high torque by powerful output but its safety is more reinforced with thermostat built inside.
3. PERFORMANCE MECHANISM : Powerful output torque of high efficiency and low noise is produced from the motor output that gives out through two shift worm gear. Like BUTTERFLY V/V, when counter torque is produced, the location of valve can be controlled by self locking. Also the various output torque(4.5 ~ 200kgfm) makes the valve application easy.
4. MANUAL HAND WHEEL : AUTO is operated when handle lever is folded on hand wheel, & manual lever open, so AUTO/MANUAL is simply and easily conversed (8 is PUSH TYPE)
5. INDICATOR : The location of valve can be accurately found in the long distance by the indicator directly connected with the drive axis and the condition of Open/Close with optional lamp that is attached.
6. DECLUTCH MECHANISM : Declutching is made by use of handle lever and connecting movable pin on the main axis, so AUTO/MANUAL is easily conversed and accurate.
7. STEM ADAPTOR : Main drive shaft and adapter are simply separated, so that process can be possible in accordance with valve stem, from which various mounting of valve is easy & simple.
8. LIMIT SWITCH : The location of valve is precisely controlled by CAM attached on drive axis, its simple structure makes setting easy, and various signal information can be obtained with the optional 4 Close/4 Open.
9. SPACE HEATER : 20W SPACE HEATER is installed in actuator to protect any electric leakage from the moisture of motor and its various switches, which can be generated from condensed water by the variation of humidity and temperature. 10. TORQUE SWITCH : When valve or actuator is overloaded, torque switch quickly turns on and cut off power supply in order to protect valve or actuator. By the adjustment of torque cam, the limit of overload is freely controlled.
10. ELECTRIC WIRING : ACTUATOR WIRING of single phase, three phase, and proportional control, etc is standard and well arranged. The convenient use and high insulation of terminal strip reinforces the electrical safety.
11. SEALING : Each part and connecting moving parts are completely sealed with o-ring, which prolongs the safety and durability of actuator. (IP65)
12. POSITIONER BOARD UNIT (OPTIONAL) : The location of valve is proportionally controlled through various signal from controller of PLC or PROCESS COMPUTER, So the transfer of feedback signal is possible.
13. EXTERNAL COATING : Aluminum die casting is coated with EPOXY-Polyester Powder after short treatment so that its durability is much improved by waterproofing, chemical proofing, & high adhesion.